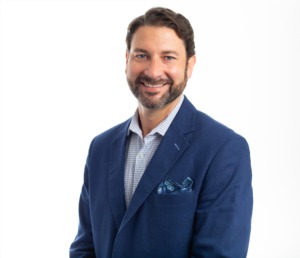 Wes Raye first stepped foot in Encinitas in 1995 by way of beloved friendships and better surf. From that point on he was destined and determined to make North County San Diego his home. Before making the big move out west, he acquired a Bachelors in Fine Arts while becoming a proprietor of a steak house in San Antonio. Business opportunities as a restaurant owner and consultant cleared the path from Texas to California. Planting roots in his hometown of choice, Carlsbad, where he and his favorite person, Jackie, started their family. Then adding to their favorite list… two daughters and a fur baby.
Over the last decade, Wes worked throughout San Diego County with wonderful people at everyone's favorite retail grocery store. His career took him to Oceanside, Encinitas, Carlsbad, Escondido, Mission Valley, and Poway/Scripps Ranch, learning the ins and outs of these neighborhoods and communities and becoming well versed in the opportunities each area holds. While living in 92010, 92009 and 92024 he sharpened his real estate skills, as a landlord, home owner, buying and selling multiple properties. His immersive experience and perspective give clients an edge up in finding and negotiating the right deal.
Wes is fiercely loyal to his clients exemplifying reliability and resourcefulness on their behalf. Understanding the benefits and opportunities each asset offers, he is driven to make home ownership your reality. He enjoys supporting local businesses and schools, ADUs, researching and analyzing with tremendous camaraderie…all for the sake of making lives better. A forward-thinking Realtor that honors his community, looking after their future, and being a resource to neighbors and friends whether it be real estate or not. Wes remains focused, graciously serving every person with kindness in the pursuit of their good life, staying calm and persevering when it gets tough, and being effective in demanding environments.
Joining the True North Associates, Wes has broadened his professional real estate reach with a supportive team, armed with industry knowledge and ambition. They are a family, where no concern is too small. Helping clients grow and prosper by serving their real estate needs and beyond.